Welcome To SHADA AL KHALIJIA CONTRACTING EST.
Our priority is to maintain a strong foundation of trust and mutual respect generated through positive relationships with our clients, architects, engineers, sub-contractors and suppliers. The foremost goal is Customer Satisfaction and to be a trusted Contractor with an exceptional performance from every member of our company.
Shada Al Khalijia's corporate principles are based on earning a competitive edge and social responsibility. At its core, Shada Al Khalijia is a contracting company that receives projects from clients and delivers them efficiently. Our major goal throughout this process is to provide maximum client satisfaction.
Beyond that primary goal, Shada Al Khalijia seeks to conduct business that triggers positive changes in the surrounding environment. We strive to follow the utmost in ethical behavior, and never compromise on our employees' rights. And we vow never to harm any living being for our benefit. We have received long-term professional benefits and immense respect in the industry by following our corporate principles.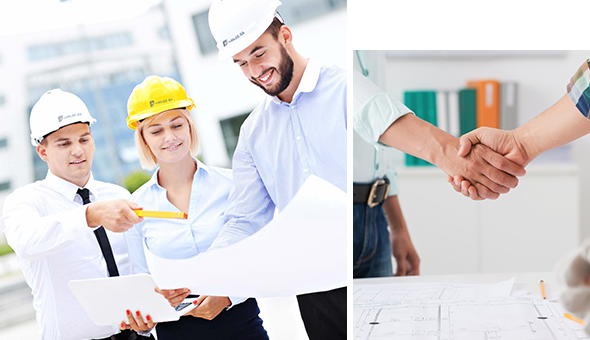 Shada Al Khalijia a leading general contractor renowned for excellence and quality, we are behind many turnkey projects.
Uncompromising quality following stringent safety along with international standards to ensure long-term reliability.
Shada Al Khalijia is not only hyper-aware of international quality standards, but adamant about following every one of them.
Our long history and expertise ensure that we know how to get the most out of our people. At the end of the day, you enjoy the outstanding results.
Unauthorized entry, theft and vandalism are major concerns. It may cause big delays in the work schedule.
We believe in providing a safe environment for its workers, visitors, subcontractors, and suppliers because they are not just employees and guests, but our family Shada Al Khalijia Contracting Est.
مؤسسة شدا الخليجية للمقاولات